On June 1, the Ministry of Agriculture and Rural Development held a press conference to inform the results of research and production of African swine fever.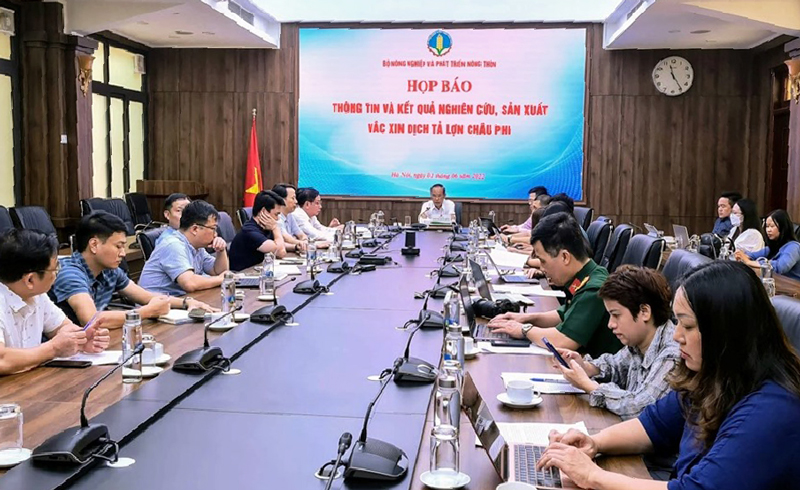 At the press conference, Deputy Minister of Agriculture and Rural Development (MARD) Phung Duc Tien said that after ASF was discovered, although there have been more than 4,000 research works related to the virus. African swine fever and vaccine development by scientists have been published, but there is no commercial vaccine against ASF in the world.
From February 2020, the research and production of the official vaccine has been carried out in collaboration with US experts. In September 2020, Navetco Central Veterinary Medicine Joint Stock Company urgently started research on a vaccine for African swine fever.
After 5 times of laboratory testing, the result is that 100% of vaccinated pigs are protected against toxicity in the laboratory; in production conditions, more than 80% of vaccinated pigs have been protected when they are aggressive against the virus that causes African swine fever in Vietnam; The duration of immunity of the vaccine lasts 6 months after vaccination.
Up to now, Vietnam has produced commercial vaccines against African swine fever, meeting professional and technical requirements, ensuring sterility, safety and effectiveness, immunity lasts 6 months, contribute to protecting the safety of livestock and pork production.
The Ministry of Agriculture and Rural Development has also established grassroots scientific councils and organized dozens of meetings with the participation of many leading scientists in Vietnam, managers, manufacturers of veterinary vaccines to research, thoroughly evaluate the report on scientific research results, the application for registration of circulation of the African swine fever vaccine NAVET-ASFVAC of Navetco Company.
It is expected that on June 3, the Ministry of Agriculture and Rural Development will officially announce this achievement and grant the circulation permit.
Acting Director of the Department of Animal Health (Ministry of Agriculture and Rural Development) Nguyen Van Long said that, on the basis of careful assessment and evaluation of Navetco's application for registration for circulation of vaccines in accordance with the provisions of the Law on Veterinary Medicine, the Steering Certificate of circulation for vaccines of Navetco Company in accordance with regulations; organize the quality supervision of 10 consecutively produced batches of vaccines.
The Ministry of Agriculture and Rural Development also supervises the use of vaccines in two phases. Phase 1: Using 600,000 doses in a narrow area, closely monitored, taking samples to evaluate the circulation of the vaccine virus and protective immune response. Phase 2: After the evaluation report on the results of using 600,000 doses of vaccine is available, the Ministry will consider directing the use of vaccines on a national scale.
Mr. Tran Xuan Hanh – Deputy General Director of Navetco Central Veterinary Medicine Joint Stock Company said that the expected cost of this vaccine is 34,000-36,000 VND/dose, equivalent to the vaccine against blue ear disease.
Sources: http://nhachannuoi.vn/